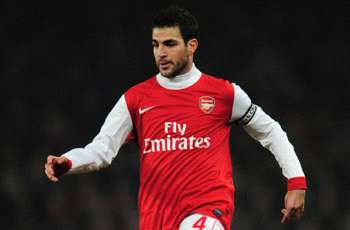 source: u.goal.com
Almunia 6 - Produced a great save in the second half to deny an equalizer. However, I'm worried when he's standing between the posts.
Koscielny 6 - The better of the CB but looked shaky and nervous, he needs someone who is not Squillaci to partner him in defense.
Squillaci 4 - Horrible. Just horrible.
Eboue 5.5 - Struggled.
Denilson 4 - Dispossessed so many times that I lost count.
Diaby 5 - I doubt he will ever become a better player. Lost hope in him.
Nasri 6 - Played well until going off due to a hamstring injury. Hope this is nothing serious because this might doom our season.
Chamakh 4 - I didn't even know he was playing. Mr. Invisible.
Bendtner 6 - he needs to work on his shooting. Lucky goal that was deflected. Also, I hate divers and he conceded a disgraceful dive.
Rosicky 6 - ok
Song 6 - ok
Fabregas 8 - inspiring, changed the game.
--------------------
little general sum up:
The entire team sucked. They were horrible until Fabregas came in to save the day. We will miss our precious Spaniard if he leaves this summer for Barcelona. I am very concerned as for the GK situation: Fabianski is reported to be out until the rest of the season (might not be true, but worrying), Szczesny is still learning
and Almunia looks like he has a lot of cheese pizza in his computer.
This shows how important Nasri and Van Persie are to the team, as they both were sorely missed yesterday (Nasri unlucky to sustain an injury). It was, however, good to see Arshavin work hard. Hope he keeps it up or else we will have to find him a new place to stay this summer.
We are said to be in a chase for Shay Given (again) and a center back but to be completely honest I think we won't sign anyone, as usual. Mr. Wenger will never change, live with it.
--------------------------
Sorry if the post is of little quality, my friend had a genius idea to watch
The Social Network
and take a shot of Bacardi every time they say the word
"facebook"
in the movie. We lost count at around 15. I'm still in bed right now and I don't think I will leave my bed for the next couple hours.